Because it Works!
If you want to run the Race of Your Life In Your Best Time Ever
or set yourself up for a lifetime of fitness from day one
read on...
Who was Arthur Lydiard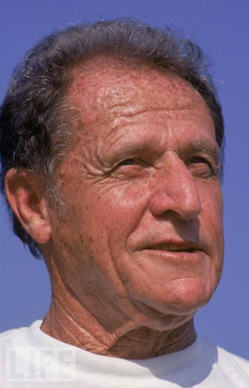 Arthur Lydiard
Coach of Champions
---
Arthur Lydiard hails from New Zealand. When his relatively unknown athletes scooped many of the distance medals at the 1960 and 1964 Olympics he consolidated New Zealand's golden era in middle and long distance running, and his own reputation as a coach.
What was remarkable about the success of his athletes was that unlike the eastern bloc countries that meticulously handpicked their talent using scientific and genetic analysis Arthur's stable were all locals who lived in his neighborhood. He proved his adage that "Champions are everywhere you just have to train them correctly."
Coach of Coaches of Champions
Lydiard's fame spread and soon he was consulting with National Sporting Federations all over the world to teach them his methods. Today many coaches in Japan, Australia, Finland, Denmark, Venezuela, Korea, Mexico, USA, New Zealand and other countries attribute much of their success directly to Lydiard.
Arthur Lydiard passed away in 2004 while on tour in the USA, at the age of 86.
---
During his life-time he single-handedly rewrote coaching methodology through trial and error, logical reasoning and intuition. Science has since proved him correct. So have the athletes. Performance speaks for itself. Here are just some of the legends who were coached in the Lydiard Method:
Billy Mills (USA) Olympic Gold medalist 10,000m
Joan Benoit Samuelson (USA) Olympic Gold Marathon
Meb Keflezighi (USA) Olympic silver medalist and NYC marathon champion
Bill Rodgers (USA) multiple Boston Marathon and New York Marathon winner
Mary Decker (USA) World Champion 3000m and 5000m and world record holder
Peter Snell (New Zealand) Three time Olympic gold medalist and world record holder
Murray Halberg (New Zealand) Olympic gold medalist 5000m
Barry Magee (New Zealand) Olympic bronze medalist marathon behind Abebe Bikila
Lasse Viren (Finland) Four time Olympic gold medalist and world record holder
Pekka Vasala (Finland) Olympic 1500m champion
John Walker (New Zealand) Olympic gold medalist and world record holder
Rod Dixon (New Zealand) Olympic bronze medalist (1500) and winner of NYC marathon
Dick Quax (New Zealand) Olympic Silver Medalist and world record holder 5000m
Toshihiko Seko (Japan) Boston Marathon Winner
Robert de Castella (Australia) Marathon world record holder and World Champion
Steve Scott (USA) Ran 136 sub-4 minute miles
Allison Roe (New Zealand) World record holder , Boston and NYC marathon winner
Wong Young-Cho (Korea) Olympic gold medalist marathon
Kristi Yamaguchi (USA) – Olympic gold women's singles Ice-skating
Hamish Carter (New Zealand) Olympic gold medalist triathlon
Lee Bong-Ju (Korea) Boston Marathon Winner and Olympic silver medalist
Yuko Arimori (Japan) Olympic Silver and Bronze medalist
Naoko Takahashi (Japan) Olympic Gold marathon and 1st sub 2:20 for a woman
---
And let's not forget some of the world's greatest coaches who have continued to contribute to the legacy: Bob Sevene, Greg McMillan, Steve Jones, Dennis Barker, Dr Joe Vigil, Alan Culpepper, Bill Squires, Dr Richard Brown, Mark Wetmore, Jon Sinclair, Kim Jones, Nic Bideau, Kiyoshi Nakamura, Yoshio Koide, Barry Magee, Chris Pilone and many more.
---
The 5 Lydiard Principles
Lydiard Basics
The principles of sound training that Lydiard developed in 1960s––based on experimenting on himself and a small group of local New Zealand runners––have stood the test of time as the scientific studies have caught up to validate his approach. Many of the principles that are part of the Lydiard system are found in coaching and training systems in use today, and nearly every successful athletics coach or athlete consciously or unconsciously emulates Lydiard's training system by laying an endurance base and making use of periodization for peak performance.
Initially, this culminated in sending Murray Halberg, Peter Snell and Barry Magee to the medalist's podium at the 1960 Summer Olympics in Rome. Subsequently, too many runners to mention have used Arthur Lydiard's approach to achieve an impressive array of Olympic medals and race wins throughout the world.

Lydiard based training is based on five critical principles:
Conditioning – At the start of any Lydiard training cycle, there is a long phase of aerobic running to build endurance and lay the base for a strong performance on race day.
Response Regulated Adaptation – Trying to run at training paces that are not aligned to your current fitness level is not a recipe for success. Lydiard plans adjust your effort levels based on how you are responding to training stimulus to optimize your fitness improvement.
Feeling Based Training – Learning to accurately interpret the language of your physiology allows the runner to stretch the training envelope while avoiding the perils of overtraining.
Sequential Development – Unlike many running plans that seek to develop multiple facets of running fitness at the same time, Lydiard training is based on a philosophy of developing the building blocks needed for a good race day performance individually over a longer training cycle to allow optimal fitness development.
Peaking – The later phases of Lydiard training are designed to guide and sharpen the runner to a point where they are in peak condition on race day in an excellent position to run the best race possible.
---
The Lydiard Training Pyramid
A typical Lydiard plan includes five distinct training phases over (ideally) 24 weeks.
While it is a longer training cycle than what you may be used to, the length of the cycle allows the safe development of running fitness as each phase builds on the previous one. The individual runs are not significantly different from what you might find in another training approach; it is the overall structure and flow of the plan that sets Lydiard apart.
Aerobic Base Building – a period of aerobic runs (run by overall time, not mileage) at a variety of paces to develop stamina and a base of conditioning.
Hills – Develops the leg power and flexibility that will be needed to support faster running while continuing to develop the aerobic base.
Anaerobic Development – Adds faster running (tempos and intervals) to prepare the runner to be able to handle race pace.
Integration – Race distance specific tuning and sharpening including shorter distance time trials.
Taper - Final preparation for race day.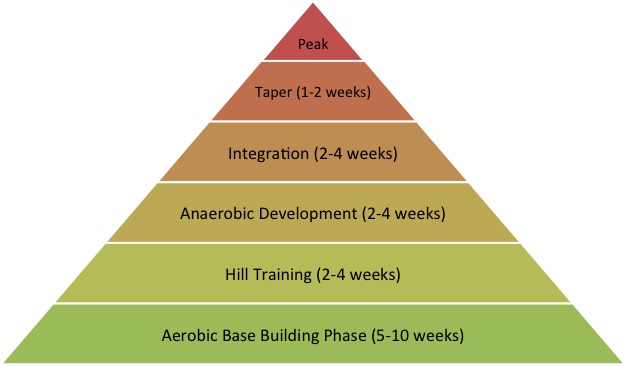 Learn more about services from our partners below!

The Training Log for Athletes, Coaches, Teams and Clubs. Final Surge is the official training log of the Five Circles and powers Running Wizard training plans!